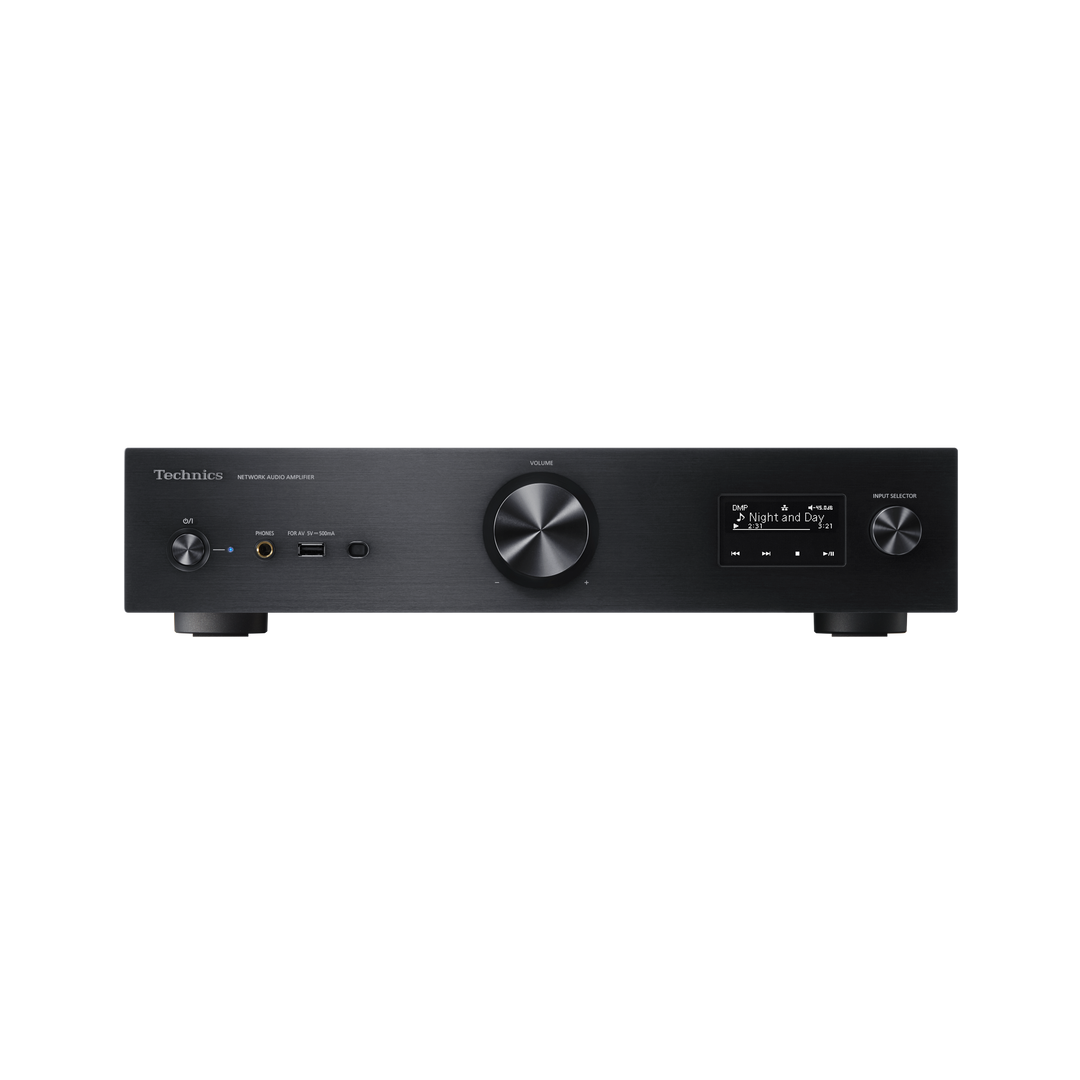 Technics SU-GX70 Grand Class Network Amplifier
Regular price
$3,199.00
/
Tax included.
---
In stock, ready to ship

Inventory on the way
Full Digital Amp, JENO Engine (Jitter Elimination and Noise-shaping Optimisation)
The SU-GX70 uses a fully digital amplifier that incorporates Technics' renowned digital audio technology. Its digital transmission system processes signals fully digitally in all stages from input to output. Compared to analogue transmission, this system is less susceptible to signal degradation caused by external noise, ensuring more precise signal transmission. Accurate signal processing not only delivers high-resolution digital audio but also maintains the soft texture inherent in analogue recordings.
Further, a JENO Engine has been used in the HDMI ARC (Audio Return Channel), which has been installed in a Technics product for the first time. This helps to reduce any degradation in sound quality caused by jitter during the transmission of digital audio signals (S/PDIF), ensuring unparalleled levels of clarity in TV audio.
Ideal Impulse Response through LAPC (Load Adaptive Phase Calibration)
Speaker impedance changes with each frequency and a power amplifier is required to drive speakers without being affected by the speaker's characteristics. However, conventional digital amplifiers are connected to speakers through a low-pass filter at the output stage, so they are even more strongly affected by the speaker impedance characteristics. Also, although the amplitude characteristics of conventional amplifiers due to negative feedback were improved, the phase characteristics could not be enhanced.

We thus developed a speaker impedance adaptive optimisation algorithm that performs correction to the ideal impulse response through digital signal processing by measuring the frequency amplitude-phase characteristics of the amplifier with the speakers connected. This technique enables flattening of the frequency characteristics of amplitude and phase, which had previously not been achieved by amplifiers, while also delivering a sound with rich spatial expression.
Twin Power Supply Circuit System
The design of the power supply is extremely critical in audio systems containing amplifiers, digital circuits and other such components. To eliminate any adverse effects on the amplifier, the SU-GX70 is equipped with a dedicated power supply for the power amplifier circuits that is independent from all other circuits. As such, the same electrolytic capacitors installed in high-end models have been used in the dedicated amplifier power supply and the power amplifier components.

The SU-GX70 uses a high-speed switching power supply of approximately 130 kHz. By increasing the switching frequency, noise interference on the music playback bandwidth is reduced. This enables highly responsive power supply for music signals and powerful speaker drive capability.
High-quality Audio through Low-impact HDMI Video Output
For the SU-GX70 to receive audio signals through the HDMI ARC (Audio Return Channel), due to the specifications, video signals must first be output from the SU-GX70. However, the output of these signals can cause unwanted noise.
As such, the video signals are output from the SU-GX70 at a lower rate, and the digital value of the colour of each pixel is set to zero. This ensures low-load operation between the HDMI transmitting/receiving devices, preventing any unwanted noise generation from the video signals. This also reduces any impact on sound quality. Further, transmitting the signals from the TV to the JENO Engine via the shortest possible route minimises any further impact from jitter. This is a mechanism unique to Panasonic/Technics as HDMI licensors.
In Pure Amplification Mode, shutting off the power supply to the network and HDMI circuits removes any noise from the device or antenna. This ensures music playback with even better clarity.
*Network and HDMI circuits can also be individually shut off.
Analogue Input Using Discrete Amp Circuits
The discrete amp circuit used in the SU-GX70 was redesigned and adapted from the circuit used in the SU-R1000, and the same symmetrical layout has been used.
Further, other high-quality audio parts of the same grade as those used in the SU-R1000 have also been adopted, such as low-noise FETs, thin-film resistors, film capacitors, and electrolytic capacitors. In this way, the device has been fine-tuned to every detail.
FREE SHIPPING for all orders over $100
(TVs & Furniture, are free but to Brisbane metro only)
Orders are dispatched every Tuesday & Friday.
To avoid disappointment please finalise your order before 10am on these days.

* Some bulky items (23kg+) may incur a shipping surcharge if outside the Metro East Coast. We will contact you with a quote if so.