Intro to HiFi Series - Part 1
In-Wall Speaker/TV Systems
The ideal balance of aesthetic and performance.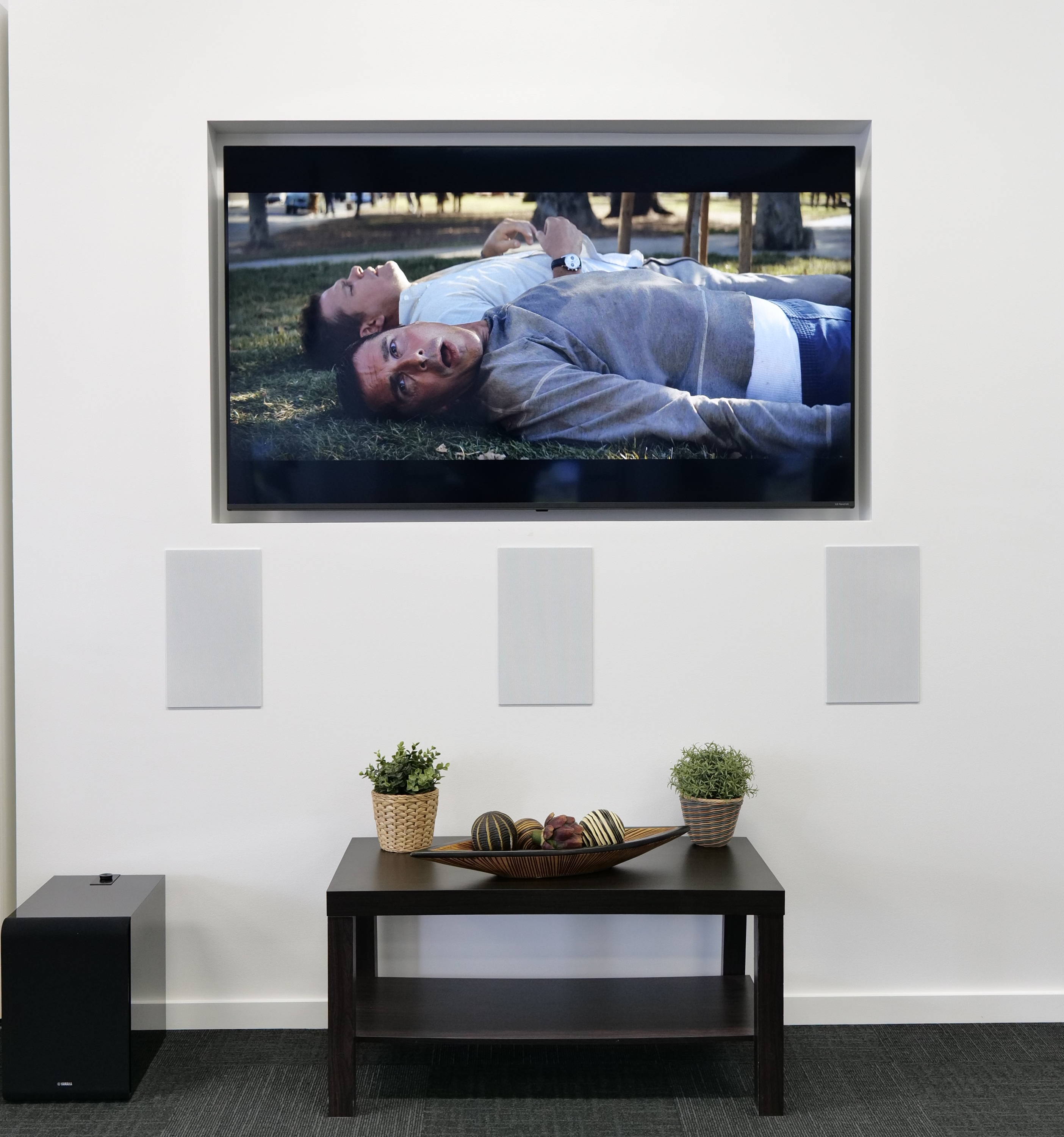 Over the next few articles, we're going to breakdown and explain each section of the Intro to HiFi wall in our showroom. A digital version of the wall can be accessed here... todds.com.au/pages/intro-to-hifi
Today we're focusing on the:
decreasing thickness of TV technology

balance of aesthetics and system performance.

hidden 3.1ch in-wall speaker + TV combo in our showroom, and

how we installed it.
As technology progresses, TV screens are getting slimmer & slimmer to match the modern décor trends. This simply means they don't have the physical space for the speakers and amplification required for quality sound. Soundbars are the go-to minimalist option to match the thin TVs, but the overall sound quality is rather limited.
Brands such as Samsung and LG have ranges like the 'Frame' and 'Gallery OLED' TVs on the market which are designed to look like artwork hanging on your wall. From an interior style perspective they look fantastic. Adding a soundbar is becoming an eyesore because they stick out from the wall at least 15cm and can really look out of place.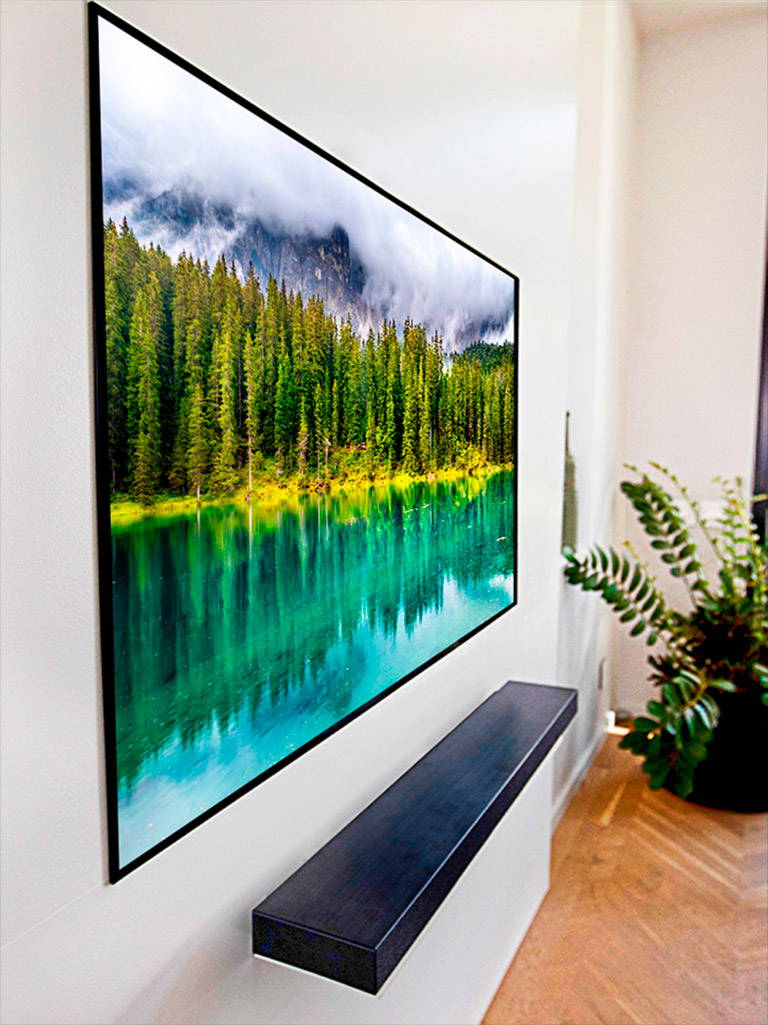 "Sure, soundbars are affordable and all your friends have one, but the sound isn't great and there are much better options that look even better."
- Bradd Kelly, Store Manager Todds HiFi -
Sound quality comes down to a mixture of frequency response or range of sound that the sound system can produce. The frequency response is the system's ability to produce high, mid & bass frequencies. A good system will do all of this well. Good treble reproduction will allow you to hear things more clearly, midrange will provide depth & emotion to vocals & instruments, while quality bass will delivery impact and and energy to the soundscape.
Soundbars generally struggle to do all of this well because of the size constraint and components. They typically consist of many small speakers amplifiers which is essentially a recipe for mediocre sound reproduction.
So what's the alternative? What solution matches the thin TV style but delivers A-grade sound? The answer is hidden in-wall speakers paired with a wireless subwoofer. These are similar to traditional speakers but are recessed in the wall and have minimalist grilles to hide the them from view.
Can you even notice the 3.1ch hidden speaker system below?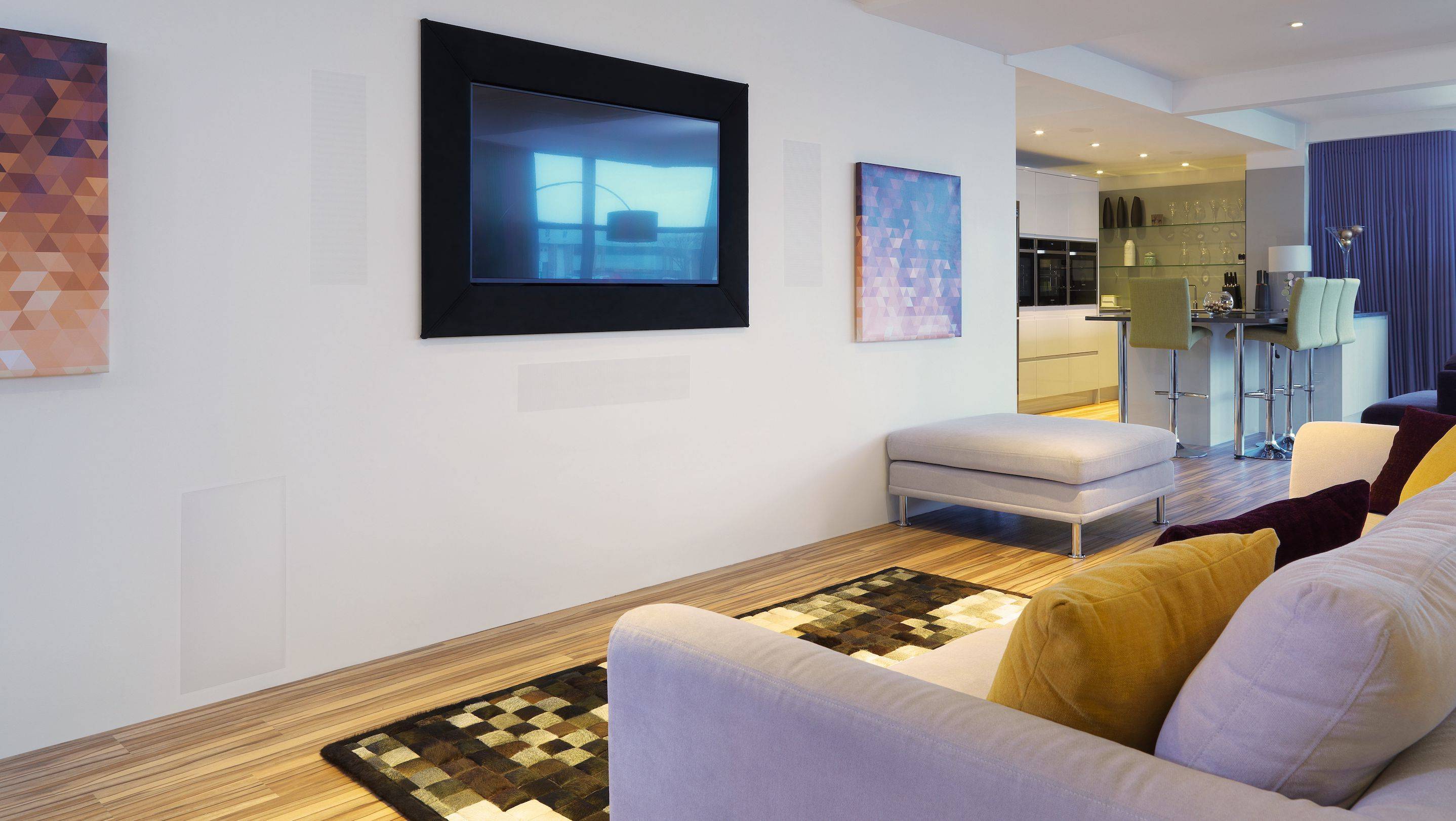 ---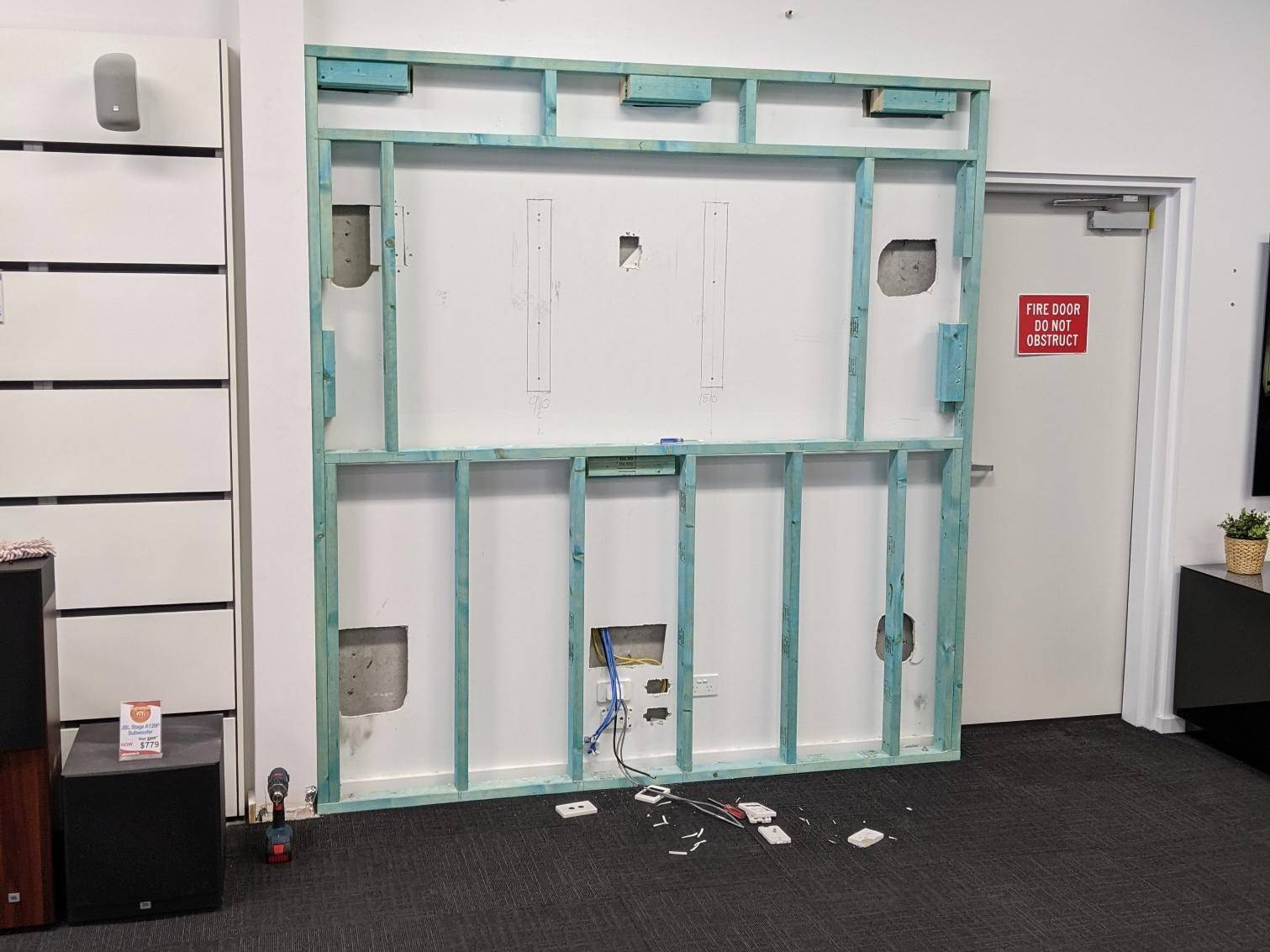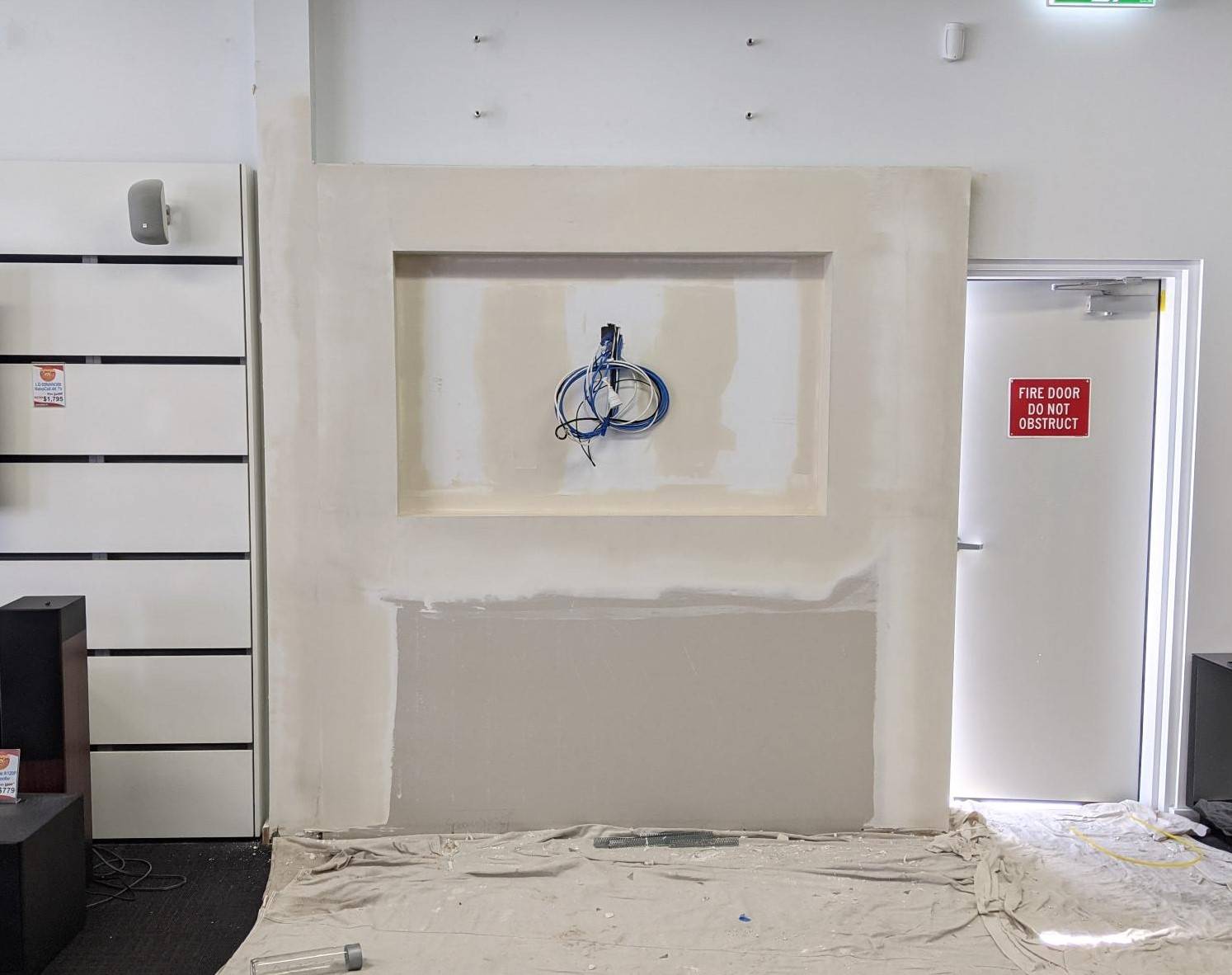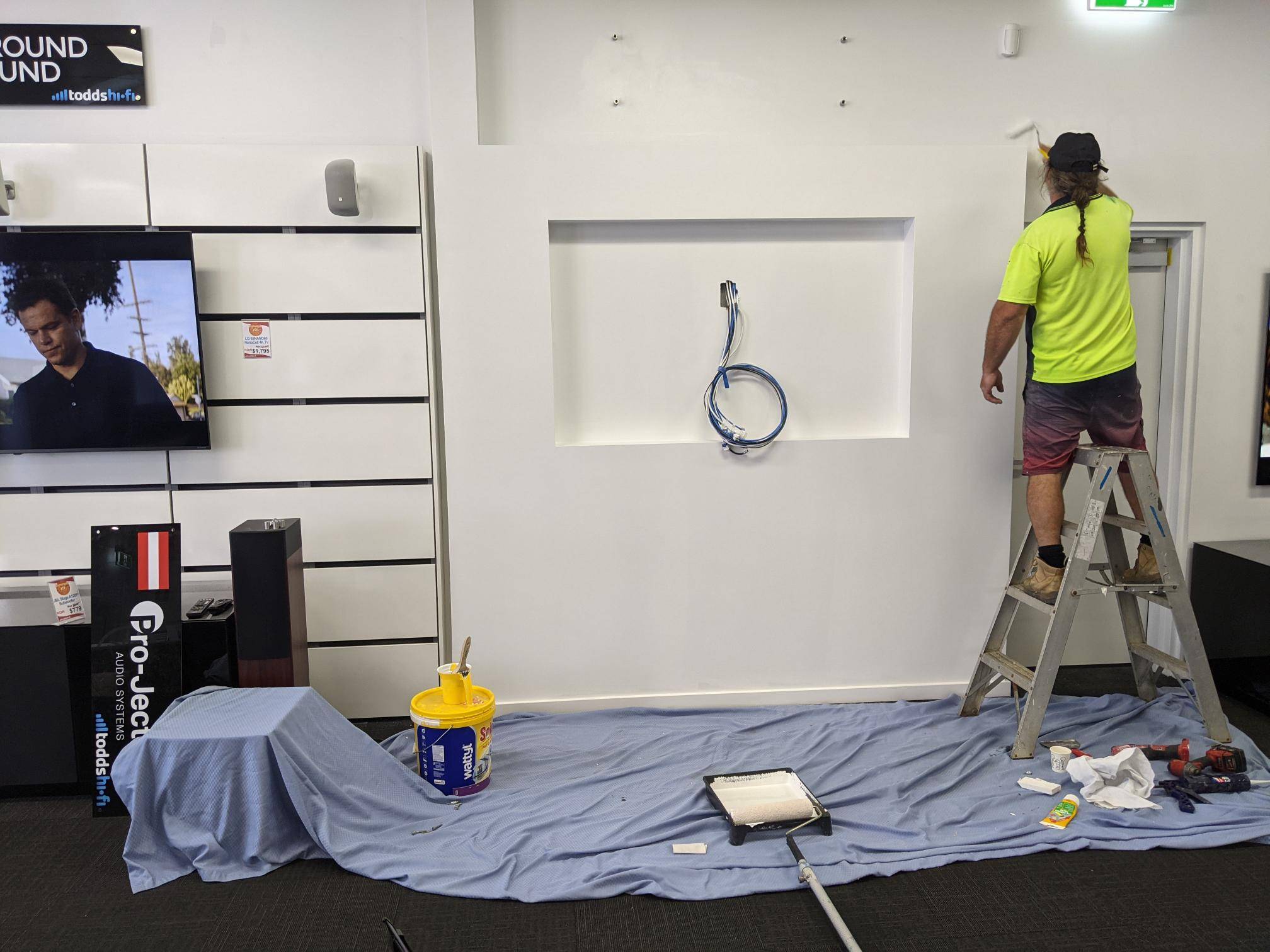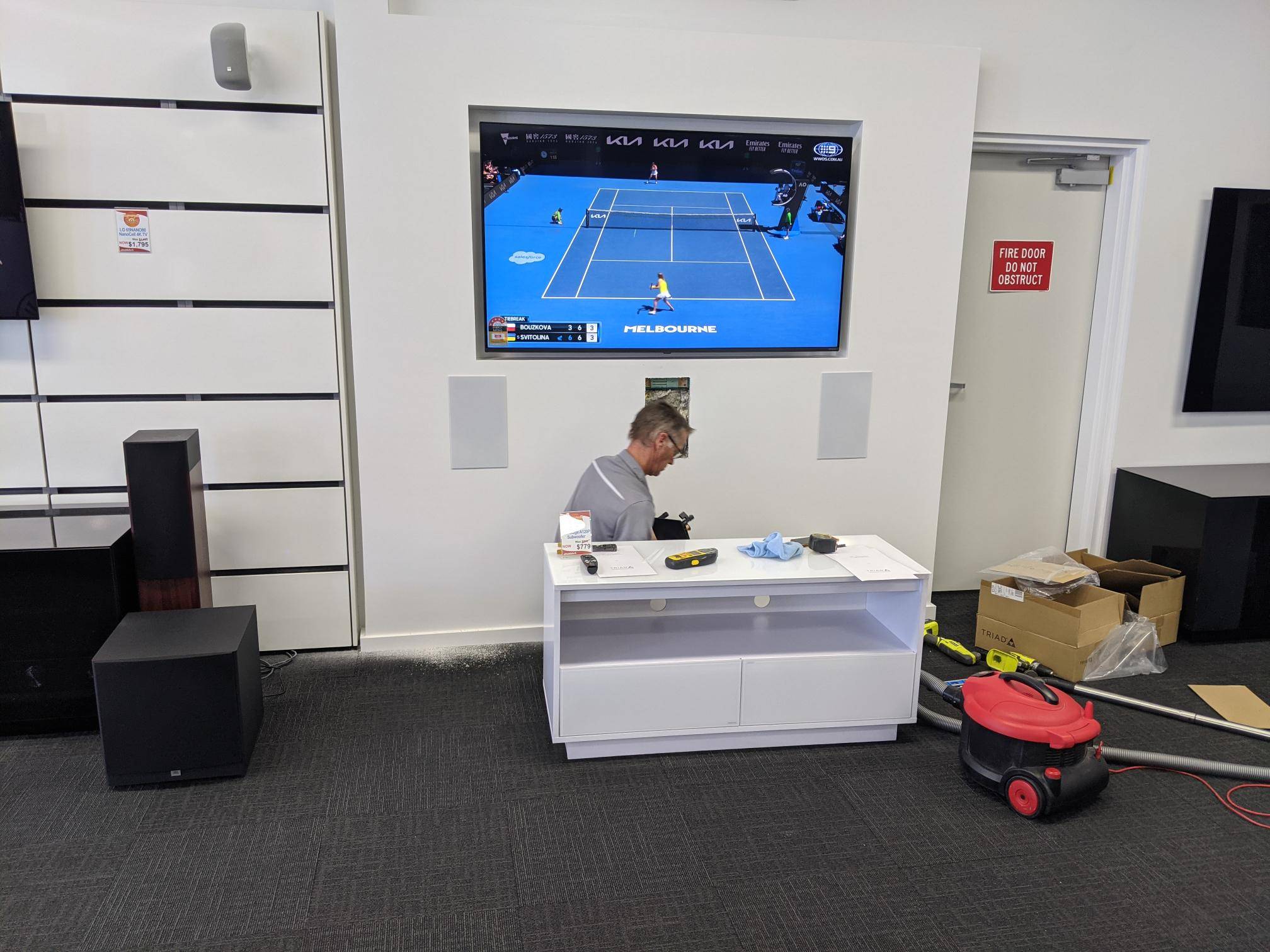 The hidden 3.1ch + TV Combo Installation
To demonstrate the simplicity and quality of result, we installed a modern home media system in our showroom with custom, flush mount in-wall speakers and a recessed TV. The system consists of three in-wall speakers which have a tweeter and 6" mid/bass speaker driver. Each speaker is handling the important left, centre & right audio channels which are the most important parts of a surround/home theatre system. We recommend speakers mounted in the front wall as opposed to an in-ceiling speakers because they will better project the sound toward the listener as opposed to down at the floor.
There are directional in ceiling speaker options but the cost doesn't always match the performance. The in-wall speakers will generally fit in a standard wall cavity but always a good idea to check this first and to check for any possible obstructions in the wall before committing to the installing. In a new build, we can talk with your builder to provide info on the speakers and where they need to go. The three speakers are wired back to an AV Receiver. Modern AVRs can hide away easily, either in a cupboard or in an adjacent room, provided we can get power and data connected meaning that they don't need to be seen.
We recessed a smart TV with streaming and this allows us to send audio via eARC from the TV to the AVR over a single HDMI cable while controlling volume etc with the one remote. We have set our system up with a wireless subwoofer which can sit anywhere in the room as it just needs power. For this particular system, we have also installed in-ceiling surround speakers for additional surround sound depth. Depending on the construction of your home and the level of quality you're are after, these are optional.
"I have a premium grade version of this hidden speaker and recessed TV system in my apartment and I love it. The extra space I get with the speakers in-wall, plus the minimalist finish, really is the next fold in modern home hifi."
- Allan Todd, Director -
Above are some images of how we constructed the hidden in-wall media system. We built a new wall with a recess for the 65" TV so that this was able to sit flush with the wall. We then ran the cabling to the AVR location before the walls were sheeted with gyprock. We ran a speaker cable for each of the 5 speakers (three in-walls and two in-ceilings) back to the AVR in the cabinet on the right. We also ran a HDMI cable for the TV.
After the wall construction was completed and painted, we used the included speaker cut out templates to cut the holes in the gyprock wall for the speakers and inserted them into the cavity while connecting them to the speaker wires. We then just needed to mount the TV on a bracket, connect the HDMI cable and set up the Yamaha wireless sub using the MusicCast system. The speakers we have are budget friendly but sound great for the price. With the 5 speakers, subwoofer & AVR working together, you are getting true 5.1ch surround sound without any gimmicks. This system suits a modern living area that perhaps opens out to a kitchen/dining area. If you have a larger room or a more dedicated media room, you can of course get better quality speakers and more of them.
Part 2 of this series will delve into brands/models of speakers and how to design a custom media room. For more information, give us a call, use our chat or email us. We have installers that can assist you with your new setup or we can provide remote support if you'd like to have a go yourself.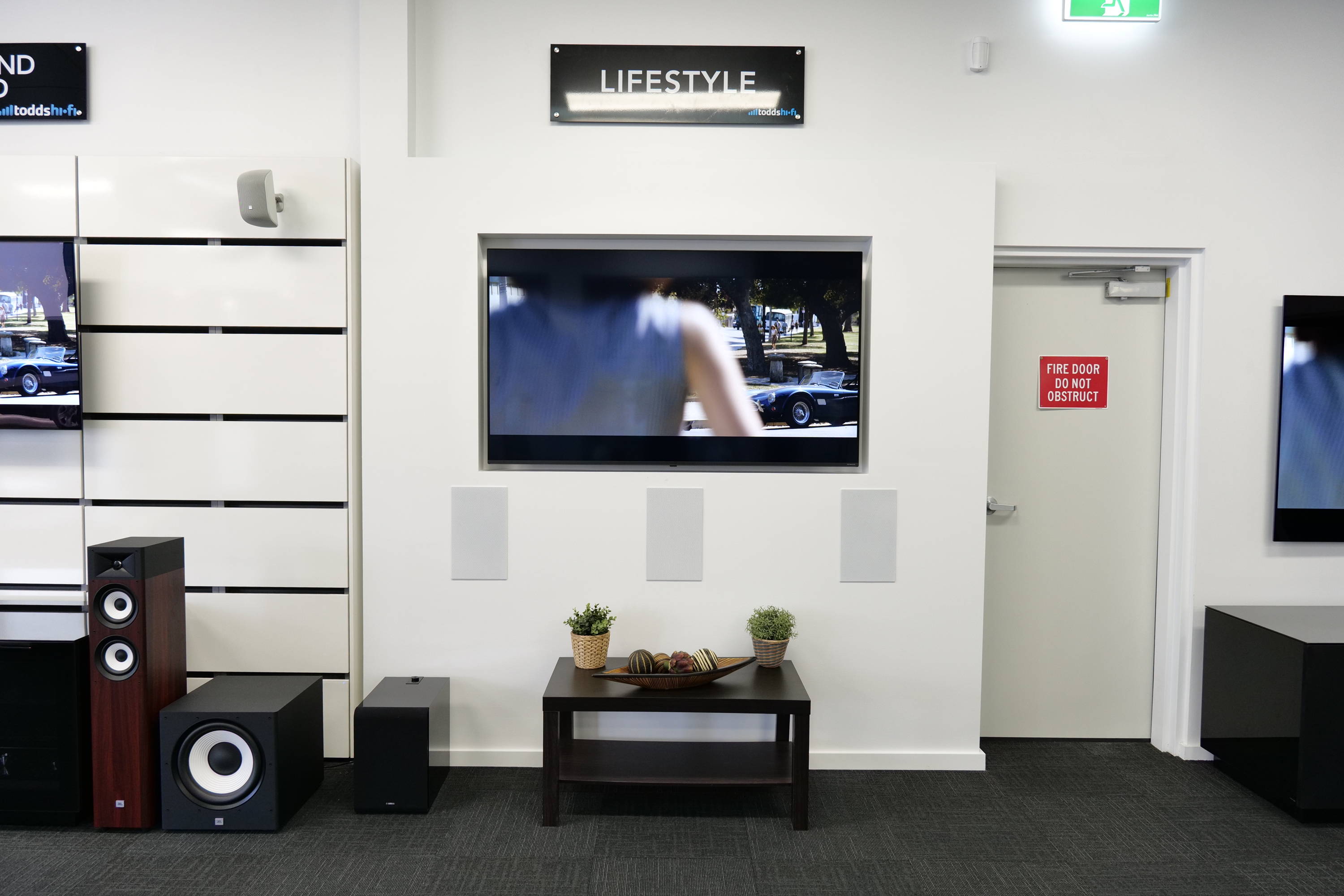 ---
---