It's like having a Gold Class cinema in your own home.
So you can eat, drink and well, act however you want.
Also, the sound and picture is calibrated just for your taste, not the entire cinema.
Our showroom is setup with all the best equipment and
our Premium AV team ready to help...
What's needed for a premium home theatre?
Top quality signal and amplification
---
An audio visual receiver (AVR) forms the core of any home theatre. It's the brains which connects everything else while powering the surround sound system. Premium signal and ample wattage to each speaker channel matched with intuitive connectivity to your video sources is the only way to achieve a premium experience.
We recommend Yamaha's Aventage Series 9 AVRs for their cinematic surround AI technology, smart home connectivity and intuitive simplicity. Supported by a serious power amp, your surround sound speakers will reach their full potential.
Surround sound speakers, subs & style
---
With your AVR outputting all that rich signal and power, you're going to need a full surround set of speakers and a subwoofer to reproduce it.
If you want your films to sound and feel like the filmmakers intended them to, we suggest at least a 7.1ch Dolby Atmos system. But we can design all they way up to 11 speaker channels with dual subs for a truly surreal experience. You'll feel the the storms from your ceiling and the explosions in your chest!
Head over to our premium speaker page to learn more...
Seven years ago I built a complete home theater with a 126 inch screen and a projector. For the sound system Todd's hifi was recommended to me via a family member. I had a site plan with measurements and speaker placement for the Todd's consultant to work off. We settled on Audi tone speakers across the front with a Yamaha RSW-300 SUB and in-set wall speakers at the rear of the room. This is all powered up by a 7channel Yamaha RX-V767 receiver.
7 years on and I haven't had a single issue with any of the products or set up parameters. I can highly recommend using Todd's hifi products and will again, but up to date I haven't had to replace a single component.
Feast your eyes with a projector
---
Just like the audio, if you want your film viewing experience to feel as intended by the filmmakers, you're going to need 4K HD resolution, true cinematic colour reproduction and SIZE!
If you have sufficient control of natural light a premium level projector will provide the best experience. If not, we can substitute with a large OLED TV. Chat to our Premium AV team for more info on the options...
---
We're truly in the age of the internet and with that comes connectivity. Essentially all of our devices can interact with each other, and for good reason. Gone are the days of needing seven remotes and 30 mins to start a movie.
Picture this... With one simple voice command (from the kitchen) your projector fires up, sound system engages, blinds close, temperature drops and popcorn machine starts cooking a batch. All ready for you to select a movie.
Head over to our premium connectivity page to learn more about the possibilities and our latest project Todds Home...
---
If you're interested in taking your home entertainment experience to a gold class standard, you're probably not going to get a gold class outcome without some design and installation help.
Our AV Design and Installation teams have a wealth of experience, so come say hi.
We've designed a range of specially priced speaker packages ready to ship across the East coast.
If you're in SEQ you can book installation to ensure you get the full potential.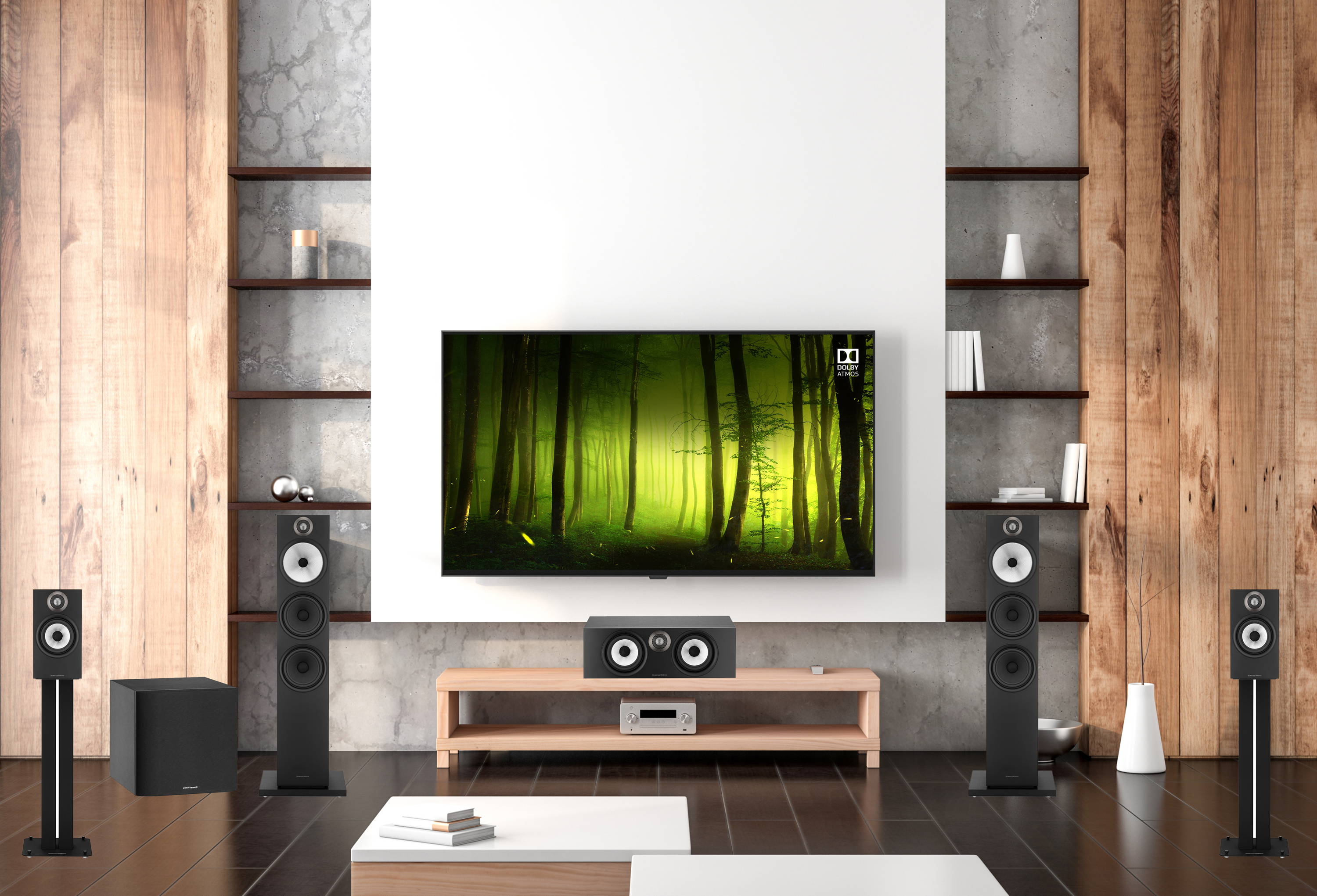 B&W 'Sexy 600' 5.1ch Package

---
Designed to meet the ultimate balance between performance & price, the Bowers Sexy 600 Package delivers really nice ATMOS surround sound, beautiful imagery and will enhance your music listening experience to a place you didn't realise existed. With the optional Yamaha 7.2ch AVENTAGE AVR & Optoma 4K UHD51 projector, a full set of B&W's speakers and 10" sub, you'll wonder why you waited so long to upgrade. We recommend adding on installation for this package to ensure you utilise its full potential. The package includes:
B&W 603 Floor Standing Speaker Pair
B&W 607 Bookshelf Speaker Pair w/ stands
B&W HTM6 Center Speaker
B&W ASW610 10" Subwoofer
Available in White or Black

Discounted AVR and projector add-ons available

Chat to us to book SEQ Todds in-house installation